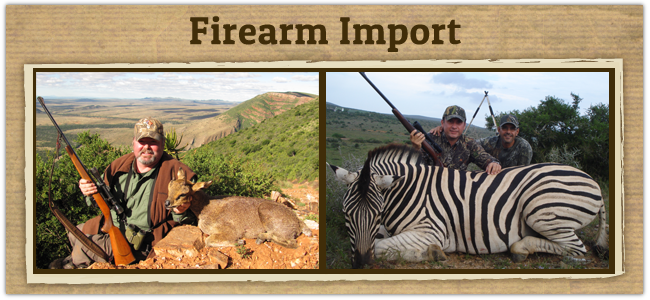 FIREARM IMPORT
You can follow the steps below or we can suggest a company that will help you with all the paperwork and get your import permit pre-approved.  They will meet you at the airport and take you through security in no time.
If you don't want to travel with a firearm, you are welcome to hire one of our rifles.  When travelling with firearms, remember to book your flights on South African Airways only, as they are the only carriers within South Africa that will allow rifles on board the plane.
TEMPORARY IMPORT OF FIREARMS
You are required to fill out the SAP 520 – Temporary Import Application that can be downloaded from the SAPS Website. Scroll down to "SAPS 520". It may also be filled out on arrival at the airport; however, we suggest filling in the form beforehand to save processing time at the Police Office. (You must complete sections E1 to E25.4, G, I and J) Note: Please use black ink on the form and submit the full application of 8 pages.
Leave the form unsigned until finalized in front of a police officer. Sign both sections I and J.
The following documents must accompany the SAP 520 form:
– PASSPORT
– RETURN AIRLINE TICKET
– PROOF OF EXPORT
– PROOF OF OWNERSHIP
– FIREARM LICENSES
– DOCUMENTARY PROOF ETC
USA citizens, an officially stamped Customs Declaration Form 4457, is essential.
Note:
Clients must obtain documentation for the legal export of firearms from an official government institution (police or customs). This must be written in English and state the following:
"It is hereby certified that the owner of the firearm(s) M (state particulars) with calibre (state calibre), serial number (state the serial number) and type (state type of weapon) is hereby authorised to temporarily export the above firearm(s) from country (state country)".
INVITATION LETTER FROM THE HUNTING OUTFITTER
This letter must be written on an official letterhead of the hunting outfitter/company.
It must include the following details of the professional hunters and outfitters:
– name(s)
– surname(s)
– license number(s)
– province in which they are registered
THE LETTER MUST INCLUDE THE FOLLOWING INFORMATION:
– for what type of hunt the client is invited
– what calibres will be used on the hunt
– where the hunt will take place (name of farm and district)
– duration of the hunt
The letter must also state that the mentioned weapons will only be used for hunting purposes on the mentioned properties.
The letter must be signed by the hunting outfitter/company and dated.
Note:
Firearms will be physically inspected to ensure the serial number(s) match those of the licenses (proof of ownership) and the application form. Ammunition will also be inspected.
A document with more instructions on filling in the SAPS 520 form is provided below: