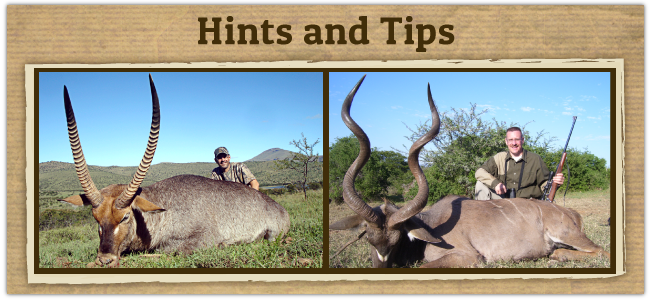 PLANNING YOUR TRIP
We suggest that your travel agent book you to the international airport of either Johannesburg or Cape Town, with transfer to Port Elizabeth. Here you will be met by Bluecliff Safaris and transported to our base camp. We also offer a full service agency that gladly handles your flight reservations and any other travel arrangements that you may require.
YOU AND YOUR FAMILY
Today South Africa is both a politically safe and stable country. Bring your family along and enjoy the beauty of our local game reserves. Visit Port Elizabeth with its splendid beaches, oceanarium and curio shopping. The famous Garden Route tour from Port Elizabeth to Cape Town can also be arranged. Or spend a couple of days in Cape Town and experience the majestic splendour of the famous Table Mountain, the history of Robben Island as well as numerous other attractions of interest to the tourist.
MEDICAL CARE
A first aid kit is carried by the professional hunter that will accompany you. More sophisticated medical facilities are available within a radius of 80 kms (50 miles) of the various hunting areas.
WHAT TO TAKE
This is a suggested list and provides guidelines to essential items. Each individual must determine his/her needs.
GUNS & GEAR
All arms should be transported in shock-proof rifle cases. We recommended that you bring your own rifles with which you are familiar. All plains game, including the larger Eland and Kudu, can be taken with 30-06, 7mm, 300 is ideal. Lower calibers may be used depending on the size of game; even .22 Magnums for animals like the Duiker and Steenbuck. We use a 12 ga for the blue duiker and lynx.
AMMUNITION
South African Airways allows 11 lbs of ammunition per person. It must be packed in a hard container. (You will get more info. on this from your travel agent). 60 rounds of ammunition should be enough for an ordinary safari.
ALSO BRING:
– Binoculars
– Flashlight (with extra batteries)
– Knife Gun cleaning kit
– Gun case
– Gun serial numbers (important)
– Ammo belt & pouch ear plugs (personal choice)
CLOTHING
South Africa is an area of vast weather variants according to the seasons.
Summer: October – March (60oF – 110oF)
Winter: May – August (32oF – 80oF)
Clothing in neutral colours is recommended for hunting, also well-fitting boots and sweaters / warm jackets for cool nights and mornings. Remember not to bring too many clothing as we have a daily laundry service.
WE RECOMMEND YOU BRING:
1 smart/casual outfit
1 warm jacket
1 warm sweater
2 long hunt pants
2 short hunt pants
3 short sleeve shirts / polo / t- shirts
4-5 pairs socks
4 sets underwear
Comfortable camp shoes
Gloves
Belt (hunt and everyday travel)
Cap (hunting and warm)
Rain gear (optional – we seldom use it)
Light wind jacket (optional)

PERSONAL CHECKLIST
Airline tickets
Passport (Keep a photocopy of your passport in a separate place)
IMMUNISATION SHOTS
Remember the Eastern Cape is a malaria free area, but do consult a doctor before coming. Do it several weeks before your trip.
DON'T FORGET TO PACK:
– Camera (plenty of film)
– Video camera, extra battery/charger
– Wallet, credit cards
– Small back pack and Travel Alarm
– Any prescriptions for medications you may require
– Personal toiletries and insect repellant
– Personal first aid kit (optional – every professional hunter has one)
OTHER OPTIONAL EXTRAS:
– Tissue packs
– Travel journal
– Map, Candles and Gum